Post by kotr on Dec 15, 2007 16:41:31 GMT -1
I had inherited a 20 gallon long (measures 76 cm long X 30cm deep X 46cm tall or 30" X 12" X 18") tank from a former tenant in a place I rented. Of course, it beats a 10 gallon tank that I've had for a nigh on 3 years now.
I decided to set it up in September. My goal was a heavily planted aquarium with a nice large school of neons. I had intended to keep and breed some angelfishes, but due to the dearth of the natural barred patterned ones, I scrapped that in favour of neon tetras. Now, I've been keeping fish for the better part of my life now, and all of them have had some form of aquarium plant in them. However, they've never really been all that heavily planted. I decided with would be my journey into heavily planted aquaria.
Started with a hanging waterfall type filter and a heater. I know most sources do not recommend a filtration system that agitates the surface of the water as it allows CO2 to escape, but I decided it would not really matter all that much.
Originally all it had was the bamboo in the corner:
Boring eh?
Stock: ~15 neons and 5 corydoras
About 2 months ago I installed a new light fixture. It's got 2 24 watt T5 High Output bulbs running some rather beautiful light into the tank. At the same time I manage to wrangle me a very nice Amazon Sword plant and some cryptocoryne of some kind. Shortly thereafter I I got me some duckweed and javamoss too.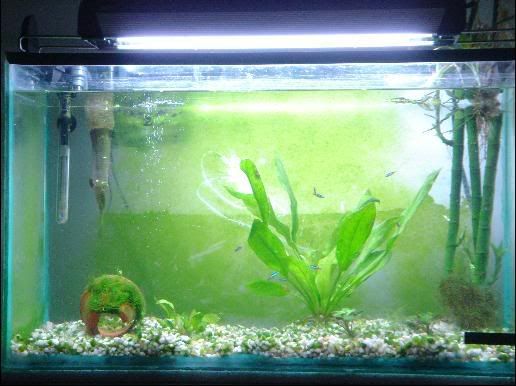 Along with the java moss I had a snail invasion and with the new lighting, a massive algal bloom (and the all the glory of which I've already described in the algae section).
last month a visit to the fish store netted me some Vallisneria and Cabomba.
3 weeks ago I decided I'm bored enough to try a CO2 system. DIY using a 2L pop bottle. As for a diffuser, I had originally wanted to pick up either the amano bubble diffuser, or look into one of those that makes the bubble travel a great distance, but I could not find any that suited my purposes. Instead, I took my undergravel filter and a very dense sponge and rigged it up to the output of a underwater pump.
I'm quite certain it's having an effect, as my cryptocorynes have shot up about an inch, the amazon sword has put up a large number of leaves, and my vallisneria has sent out several runners that are now 2" or so in height.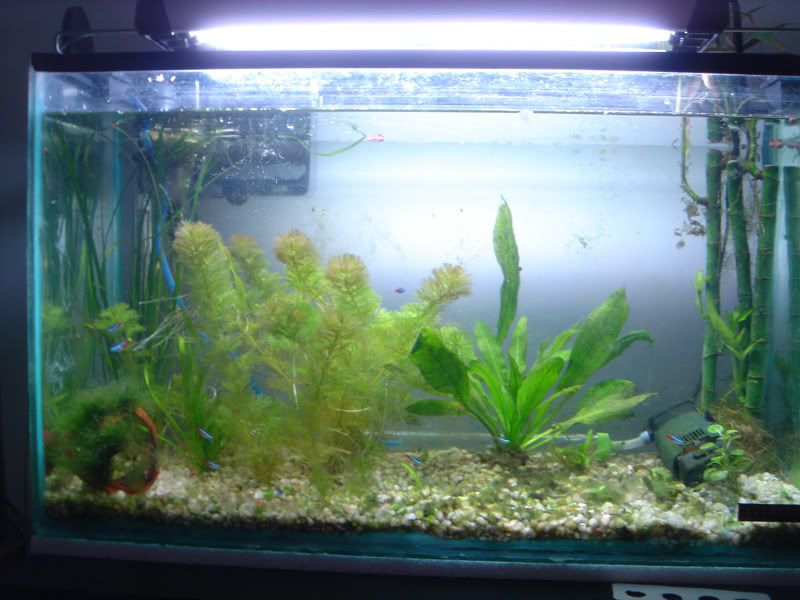 And now for some closeups: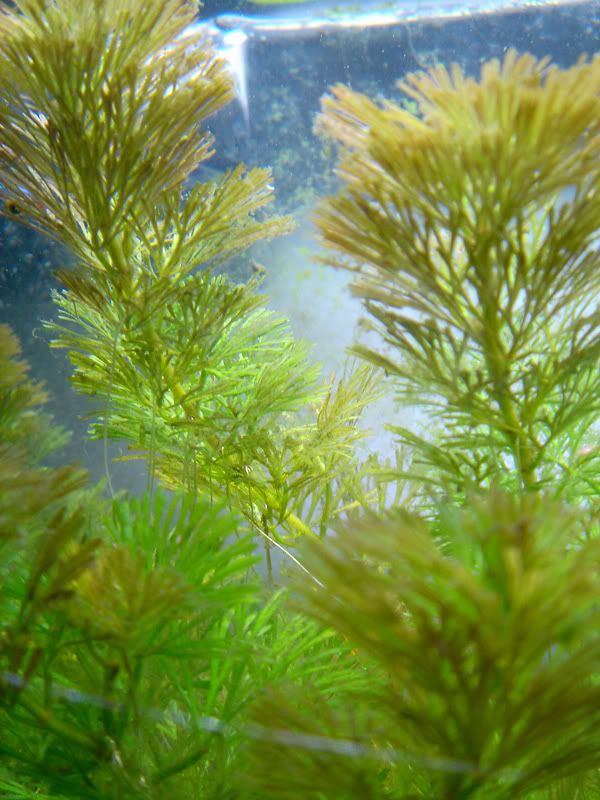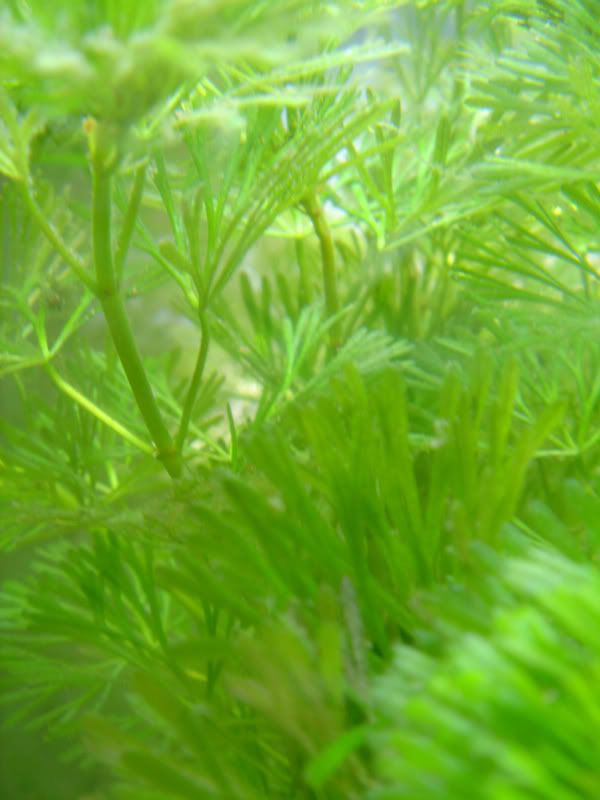 I think right now my problem is that I don't have negative space. with the Sword and the cabomba the way they are, there's no central stage area. And it's all just green. i think I need to introduce some other shades, and maybe a nice piece of driftwood, although the latter might not be feasible as that tank is pretty full as it is.
oh yes, current stock: 15 Neon tetras, 2 Corydoras Catfish, 10 Ghost shrimp, Lots of snails, mayflies, and copepods.
Oh yes, and if it seems like my algae problem is under control, I'm glad to say that it mostly is. but don't let it fool you, I just cleaned the tank the other day.

Also, I'd like to know what you guys think about the setup and how I can improve the layout.